Halloween is one of my favorite holidays. Costumes, candy, tricks and treats – what's not to love?! This year I'm throwing a party for all of my friends and the menu is shaping up to be spooky! Here are a few of the dishes I can't wait to make: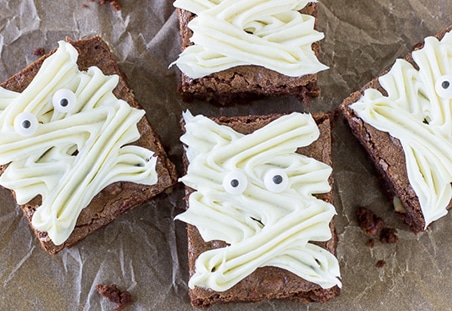 Fudgy brownies studded with hazelnuts and topped with vanilla buttercream frosting – Yum! These Mummy Hazelnut Brownies from Deliciously Sprinkled are almost too cute to eat, but I'm sure my party guests will find a way.
Pumpkin Walnut Spider Cupcakes
It's not often that I call spiders cute, but these chocolate and nut covered marshmallows with googly eyes on top of sweet, pumpkin walnut cupcakes from The First Year are just that!
Chocolate bark is always a hit, but it definitely gets taken up a notch when it's studded with monster eyeballs and walnut halves. Bonus! This recipe from Deliciously Sprinkled is super easy to make in advance, it will save in the fridge for at least 2 weeks!
Frankenstein Pistachio Blondies
This adorable treat may look like it's just for kids, but the buttery pistachio blondie inside of all of that green icing will wow an adult crowd too! Read more about the Frankenstein Pistachio Blondie on The Sugar Hero!
Of course, no Halloween party is complete without a witch-shaped fruit, veggie and nut platter from The First Year. This is a creative, no-bake dish that you can put together in a matter of minutes before guests arrive.
Do you throw a Halloween Bash? I'd love to hear what's on your menu in the comment section below!