Baking a homemade cake is always an accomplishment, especially when it's layered with walnuts and covered in velvety frosting. If you're stuck in the land of single layer sheet cakes, try your hand at sky high, buttercream blanketed layer cakes with these simple assembly instructions.
Step one – Bake your cake
You'll need two, 8-inch round chocolate cake layers. Allow them to cool for about 10 minutes in the pans and then pop them onto a cooling rack to cool completely.
Step two – Set up your frosting station
Place one cake layer on a cake stand, flat side up.(Pro tip:  plate, if you have a fancy revolving cake stand place the cake layer on a plate before putting it on the stand). Put your chocolate frosting in a bowl and grab your offset frosting spatula.
Step three – Add the cake filling
Use your spatula to spread about ½ cup of icing over the first cake slice, then sprinkle on an even layer of chopped walnuts.
Step four – Add your next layer
Gently place your next cake layer on top of the walnuts with the flat side (bottom side) up. Spoon about ½ cup on frosting on top, then smooth it into a thin layer on top of the cake.
Step five – Apply a crumb coat
Once you have a very thin layer of frosting on the top of the cake, push the excess down the sides, filling in the gap between the top and bottom layer. Take another dollop of frosting and use your spatula to push it around the sides of the cake. (This is where the revolving cake stand comes in handy!) When you're finished, you should have a very thin layer of icing over the entire cake which will seal in the crumbs and make it easier to frost. You should still be able to see the cake under the frosting. Now pop it in the fridge for 10 minutes to firm up.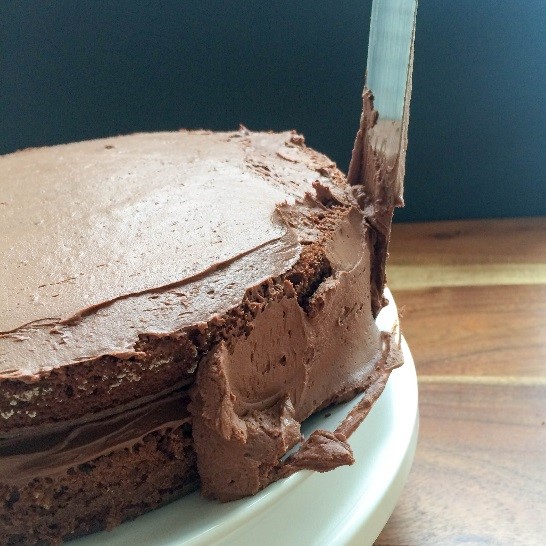 Step six – Frost your cake
Place the remaining frosting on top of your cake and spread it into a smooth later. Push excess frosting down the sizes of the cake. With your spatula straight against the cake, turn the cake stand until the sides have been covered in an even layer of frosting.
Step seven – Garnish
Sprinkle more walnuts around the perimeter of the top of the cake (or cover the entire cake with them) and you're ready to serve!