?>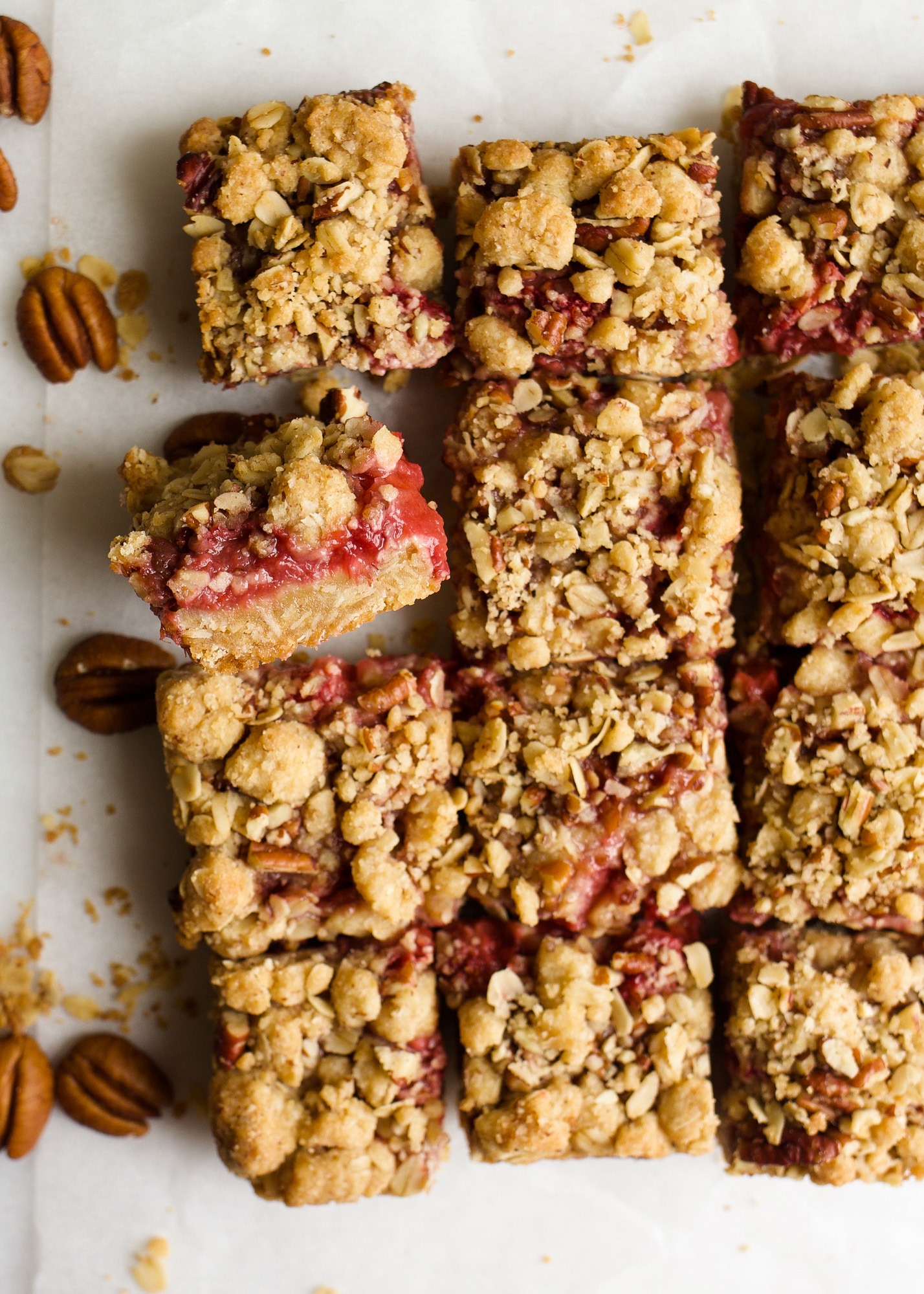 Share on Pinterest
Strawberry Rhubarb Crumb Bars
20 minutes
13 ingredients
Pecans
medium
Ingredients
For the bars

1-1/2

cups

old-fashioned oats

1-1/2

cups

all-purpose flour

1

cup

packed brown sugar

1/2

tsp

baking powder

1/4

tsp

salt

3/4

cup (170 gm)

unsalted butter, melted

3/4-1

cup (see notes)

strawberry rhubarb jam

1/2

cup

chopped berries (optional

1/2

cup

Diamond of California® Chopped Pecans
For the strawberry rhubarb jam

3/4

pound

rhubarb, chopped

3/4

pound

strawberries, hulled

3/4

cup (150 gm)

sugar

1

tbsp

water
The Steps
To prepare the bars:
1. Preheat the oven to 350 degrees F and line an 8" pan with a sheet of greased foil.  Combine the oats, flour, brown sugar, baking powder, and salt in a large bowl. Stir in the butter until the mixture is consistent. Pack 2/3 (about 2 cups) of the mixture evenly into the bottom of the pan and bake in the preheated oven for 10 minutes.
2. When finished, spread the jam on top of the cooled crust. If you're opting to not add fresh fruit, use 1 cup of jam. If you'd like to add fresh fruit, use just ¾ cup. Top with fresh fruit, if desired. Mix the pecans into the remaining crumb layer and then sprinkle on top of the jam and/or fruit. Bake in the preheated oven for an additional 25-30 minutes or until the top is golden. Allow to cool completely before removing from pan and cutting. You can speed up this process in the fridge.
To prepare the rhubarb jam:
1. Combine all of the ingredients in a medium-sized pot over low heat. Stir to combine and continue stirring regularly until all of the sugar has dissolved. You can test this by carefully rubbing a little bit of the liquid in the pot between two fingers- it should feel smooth.
2. Continue to cook over low heat, stirring regularly until the mixture comes to a simmer. Allow it to simmer for about 10-15 minutes until the rhubarb and berries
have broken down and the mixture is approximately applesauce consistency. Remove from heat and place in a heat-proof bowl to cool in the fridge. This jam
will keep in the fridge for approximately 2-3 weeks.
Other Recipes You Might Like