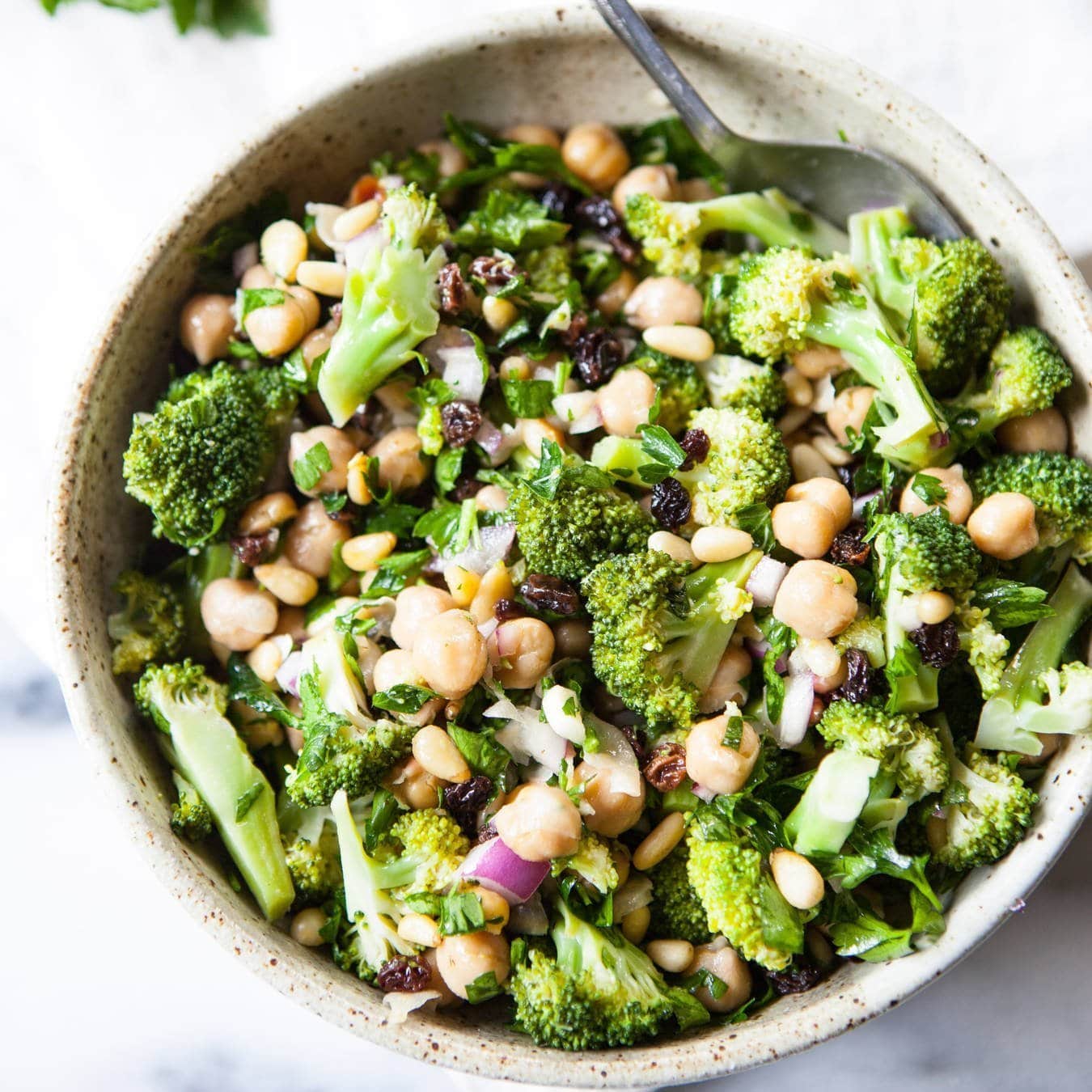 Share on Pinterest
Crunchy Broccoli and Chickpea Salad
25 minutes
13 ingredients
Pine Nuts
Easy
Ingredients
For the Salad

1/2

cup (60g)

Diamond of California® Pine Nuts

1

pound

broccoli florets, roughly chopped (from about 1-1/2 pounds broccoli)

1

14-ounce

can chickpeas, rinse and drained

1/4

cup (30g)

chopped red onion (about 1/4 onion)

1/3

cup (45g)

currents (or regular raisins)

1

cup (45g)

chopped Italian parsley
For the Dressing

1/4

cup

apple cider vinegar

3

tbsp

olive oil

1

tbsp

honey

1

tbsp

brown spicy mustard

1

clove

garlic, minced

1

tsp

kosher salt

1/4

tsp

ground black pepper
The Steps
Toast the pine nuts: In a small dry skillet over medium heat, toast pine nuts until fragrant and just golden, about 4 minutes. Stir occasionally to avoid burning.
Quickly blanch broccoli: Bring a large pot of water to a boil. Reduce heat to medium and cook broccoli until slightly tender but still quite firm, 3-4 minutes. Toss broccoli into a bowl of ice water to stop the cooking. Drain well.
Mix up the dressing: In a small bowl, whisk together the vinegar, oil, honey, mustard, garlic, salt, and pepper. Set aside.
Assemble the salad : In a large salad bowl, toss together the drained broccoli, chickpeas, onion, currants, parsley, and toasted pine nuts. Fold in the dressing and stir well to coat. Taste and adjust the seasoning as desired.
Other Recipes You Might Like