?>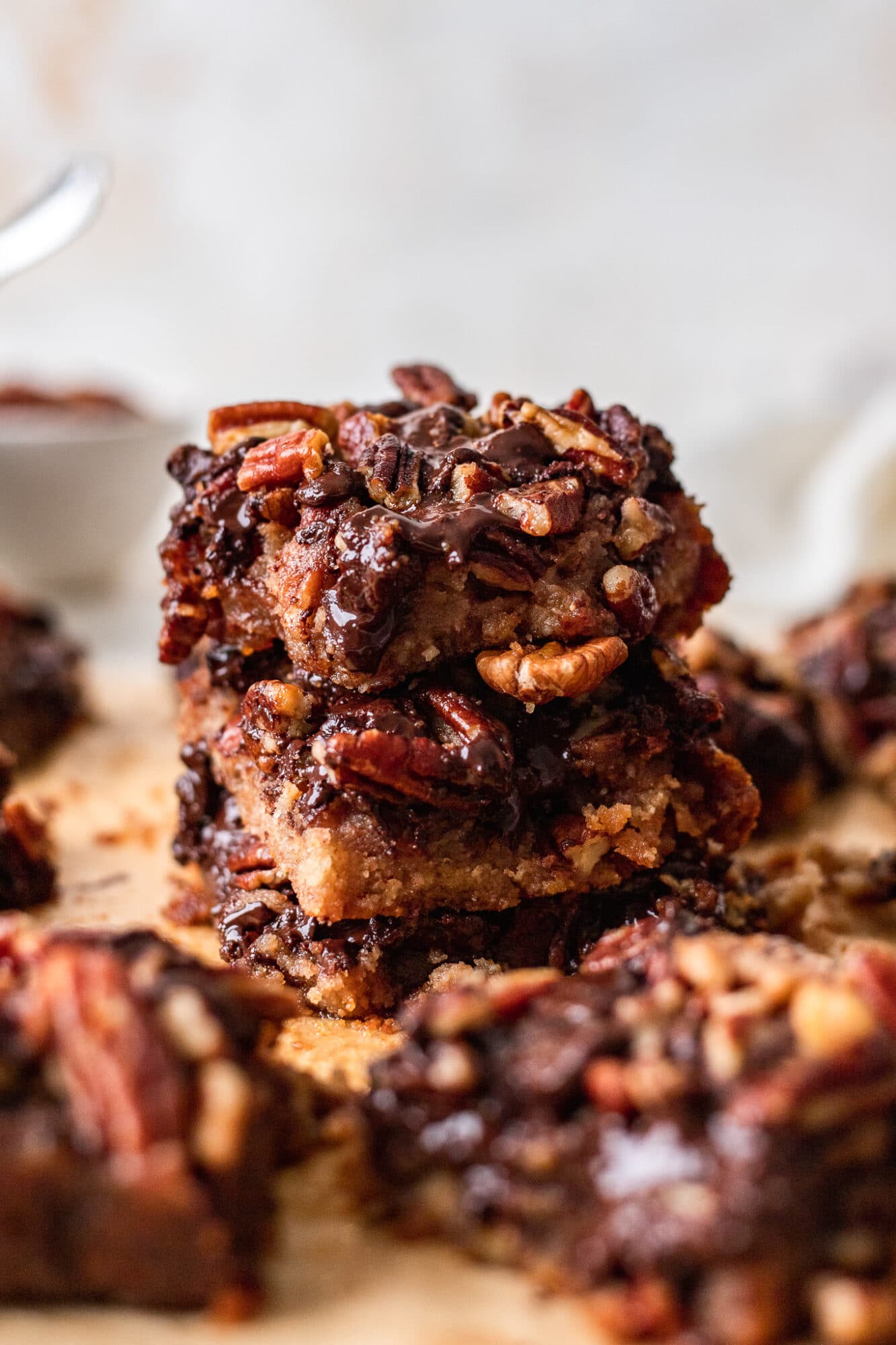 Share on Pinterest
Vegan Chocolate Pecan Pie Bars
10 mins, Cook time 35 mins
13 ingredients
pecan
Easy
Ingredients
Crust

80

grams

coconut flour

180

grams

Diamond of CA pecan halves

2

tbsp

maple syrup or keto syrup

1tbsp

arrowroot

starch

110

grams

coconut oil, room temperature

Filling

100

ml

dairy-free milk

110

grams

granulated sugar or keto-friendly granulated sugar

180

grams

Diamond of CA chopped pecans

150

grams

maple syrup or keto-friendly sweetener

1 1/2

cups

sugar free chocolate chips, melted

1

tbsp

arrowroot starch
The Steps
Instructions
Please read all instructions before beginning.
Prep: Preheat the oven to 400F. Line an 8×8 baking pan with parchment paper, and set aside. Measure out all ingredients.
Make the pie crust: In a food processor, process the pecan halves until they reach a rustic flour, about 10 seconds. Then add in the coconut flour and arrowroot starch, and pulse again until just combined. Add in the coconut oil and keto-friendly syrup and pulse until a thick dough forms. Press the dough into the baking pan, and use a fork to poke a few holes into the crust. Bake the crust for 10 minutes. Then set aside to cool. Don't turn off the oven!4.
Make the chocolate pecan pie bar filling: While the crust is cooling, make the filling. Whisk together the dairy-free milk, coconut oil, liquid syrup, and granulated keto-friendly sugar until combined. Add in the arrowroot starch while you're whisking. Then fold in the pecans and chocolate chips.
Pour the filling: Pour the filling onto the pie crust. Spread the filling to touch the edges of the pan.
Bake the pecan pie bars: Place the baking pan into the still heated oven and bake for 30-35 minutes, or until the edges have completely set. Remove the baking pan from the oven and allow the pecan pie bars to cool in the pan for an hour. Then use a knife to run along the edges of the pie bars and carefully place the pecan pie bars onto a cooling rack to set for another 2 hours.
Slice and serve! Slice the chocolate pecan pie bars into 16 bars and enjoy! Store any leftovers in an airtight container and in the fridge for up to 5 days or in the freezer for up to 2 months.
Other Recipes You Might Like