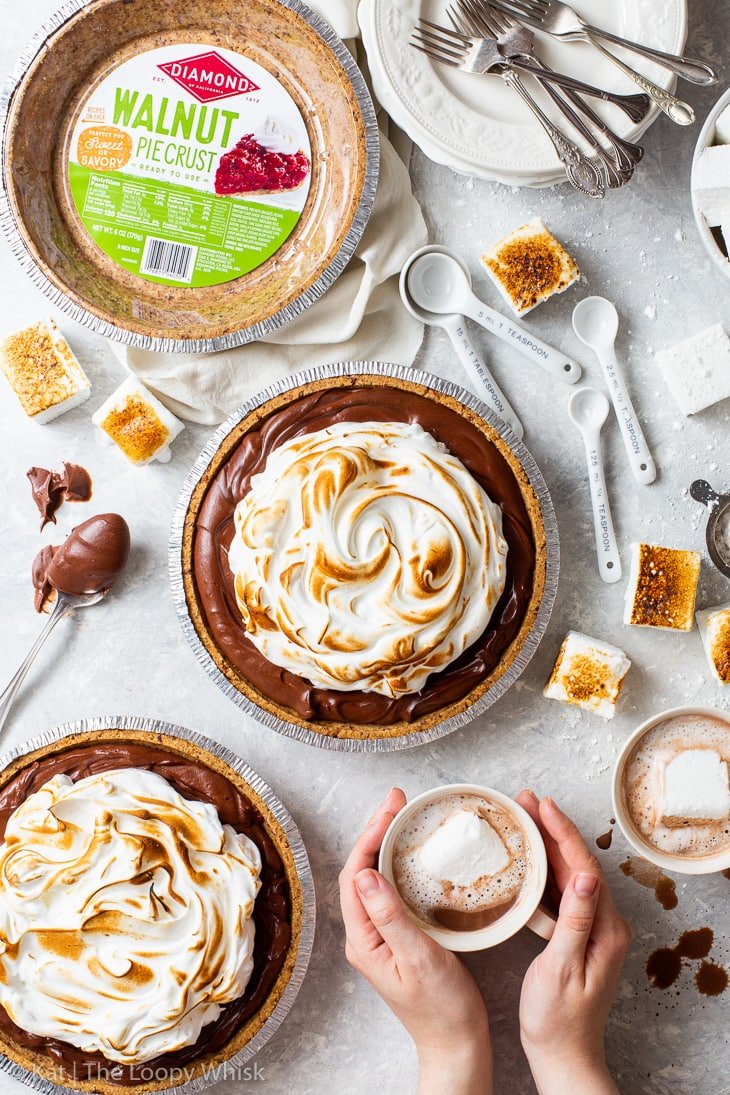 Share on Pinterest
Hot Chocolate Pie with Walnut Pie Crust
10 minutes
6 ingredients
Walnut Pie Crust
Easy
Ingredients
1

Diamond of California® Ready to Use Walnut Pie Crust
Chocolate Filling

10-1/2 oz (300 g)

dark chocolate, chopped

1-2/3

cups (400 mL)

double/heavy cream, divided
Swiss Meringue Topping

3

medium

egg whites

1/2

cup (100 g)

caster/superfine sugar

1/4

tsp

cream of tartar
The Steps
For the chocolate filling:
Place the chopped dark chocolate into a heat-proof bowl.
In a saucepan, heat 1 cup (240 mL) double/heavy cream over medium-high heat until it only just begins to boil.
Pour the hot double/heavy cream over the chocolate. Allow to stand for 3 – 4 minutes, then stir until you get a glossy, smooth chocolate ganache. Let cool until warm.
In a separate bowl, whip the remaining 2/3 cup (160 mL) double/heavy cream until stiff peaks only just begin to form.
Once the chocolate ganache has cooled, gently fold the whipped cream into it until fully incorporated.
Transfer the chocolate filling into the walnut pie crust and smooth out the top.
Refrigerate the filled chocolate pie for at least 4 hours, or until the filling is completely set.
Swiss meringue topping:
Mix the egg whites, sugar and cream of tartar in a heat-proof bowl above a pot of simmering water.
Heat the meringue mixture with constant stirring until it reaches 150 ºF (65 ºC) and the sugar has melted.
Remove from heat and transfer the hot meringue mixture into a stand mixer with a whisk attachment (or use a hand mixer with the double beater attachment). Whisk the mixture for 5 – 7 minutes, until it reaches room temperature and forms stiff, glossy peaks.
Make sure the meringue is completely cooled (to room temperature) before you top the pie with it, otherwise the chocolate filling can melt.
Assembling the hot chocolate pie:
Spoon the cooled Swiss meringue on top of the chilled chocolate pie – I like to keep a wide edge free of the meringue, so you can see the chocolate filling underneath.
Create swirls of meringue with an offset spatula or the back of a spoon.
Toast the Swiss meringue topping with a kitchen torch.
The hot chocolate pie keeps in the fridge in a closed container for up to 3 – 4 days
Enjoy!
Other Recipes You Might Like