?>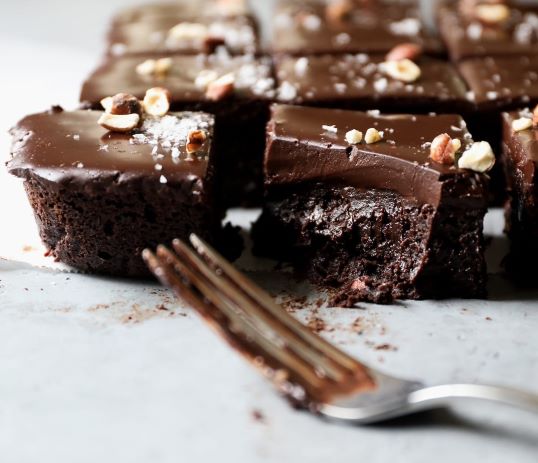 Share on Pinterest
Chocolate Hazelnut Brownies with Coffee Ganache
17 ingredients
Hazelnuts
Moderate
Ingredients
1

cup

bittersweet chocolate, finely chopped

1 1/4

cup

granulated sugar

1/2

cup

light brown sugar, packed

16

TBSP (2 sticks)

unsalted butter, cut into 16 pieces

4

large eggs

room temperature

1

TBSP

real vanilla extract

1

cup

all purpose flour

3/4

cup

unsweetened dark cocoa powder

1

tsp

sea salt

2/3

cup

Diamond of California chopped hazelnuts, toasted

For the Coffee Ganache

1

cup

bittersweet chocolate, finely chopped

3/4

cup

heavy whipping cream

1

TBSP

fresh brewed strong coffee or espresso

For the Tops

1/3

cup

Diamond of California chopped hazelnuts, toasted

2

tsps

sea salt flakes, optional
The Steps
Preheat the oven to 350°F (177°C). Grease an 8 x 11–inch (20.3 x 28–cm) baking dish and line with parchment paper, letting the excess fall over the sides.
In a medium, heat-safe bowl add the chocolate, granulated sugar, brown sugar and butter and set over a medium saucepan of simmering water. Do not let the bowl touch the water or let the water come to a boil. Stir frequently until melted and smooth. Place a towel on the counter and set the bowl on top of it. Whisk in the eggs, one at a time, making sure each is well blended before adding in the next. Add in the vanilla and stir to combine.
In a small bowl, whisk together the flour, cocoa powder and salt. Add to the chocolate mixture and stir until just combined. Add 2/3 cup of hazelnuts and give it one or two final stirs to distribute the nuts throughout the batter. Pour the batter into the prepared baking dish. Use the back of your spoon to even the top a bit.
Bake on the middle rack of the oven for 25-35 minutes depending on desired doneness (25 minutes results in a gooey brownie similar to the photos; 35 minutes the brownies will be more set). When done, they will have a bit of jiggle in the middle, and if you test with a toothpick a bit of batter will coat it. Let them cool in the pan for several hours and if you want super, uber fudgy brownies shove them in the fridge for several hours before serving.
To make the ganache place the chocolate medium heat-safe bowl and bring the cream to a boil. Pour over the chocolate, add the hot coffee/espresso and let sit for about 10 minutes. Stir until smooth and then pour over the cooled brownies. Let sit for several hours to set up. Once set, sprinkle some sea salt flakes and more hazelnuts over the top before serving.
When it's time to cut the brownies, use the excess parchment to pull the brownies from the pan. With a very sharp knife, cut the brownies and use a wet towel to clean off the knife in between cuts.
Other Recipes You Might Like