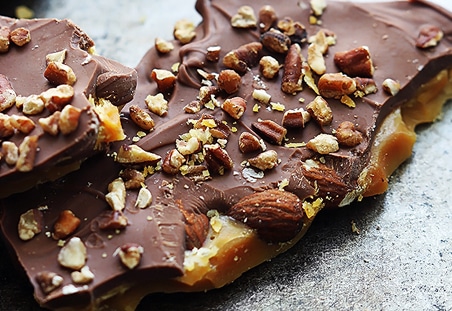 Share on Pinterest
Homemade English Toffee
5 minutes
7 ingredients
Almonds and Pecans
Easy
Ingredients
1

cup

Diamond of California® whole raw almonds

1

cup

butter, cut into 1-inch cubes

1

cup

sugar

1/4

teaspoon

salt

1

teaspoon

vanilla

2

cups

milk chocolate chips

1/4

cup

Diamond of California® pecans, finely chopped
The Steps
Get all of your ingredients measured and set out before you start the recipe. Then place your almonds on a plate and microwave them for 2-3 minutes on high to toast them. Line a baking sheet (preferable a 9×13 pan) with foil and place the almonds in a single layer on the foil – space them out as best you can.
Add sugar, butter, vanilla, and salt to a large sauce pan (at least 2-quarts and it needs to have a thick bottom – not a thin metal one or your toffee will burn!) and melt over medium heat, stirring throughout.
When ingredients are completely melted, continuously stir and gradually increase heat to medium-high. Keep stirring, stirring, stirring for 9-15 minutes until the toffee is a golden brown color (similar to the color of the raw almonds). As soon as it reaches that color, quickly pour over almonds in your prepared pan.
Allow to cool for about 2-3 minutes, then sprinkle with chocolate chips. Allow to sit for another couple of minutes so the chocolate chips will melt, then spread over the toffee. Sprinkle with chopped pecans and allow to cool completely. (If you put the pan in the fridge it will speed up the process a bit).
After toffee and chocolate and completely cooled, use a butter knife to break apart the toffee. Store in an airtight container at room temperature.
Other Recipes You Might Like