?>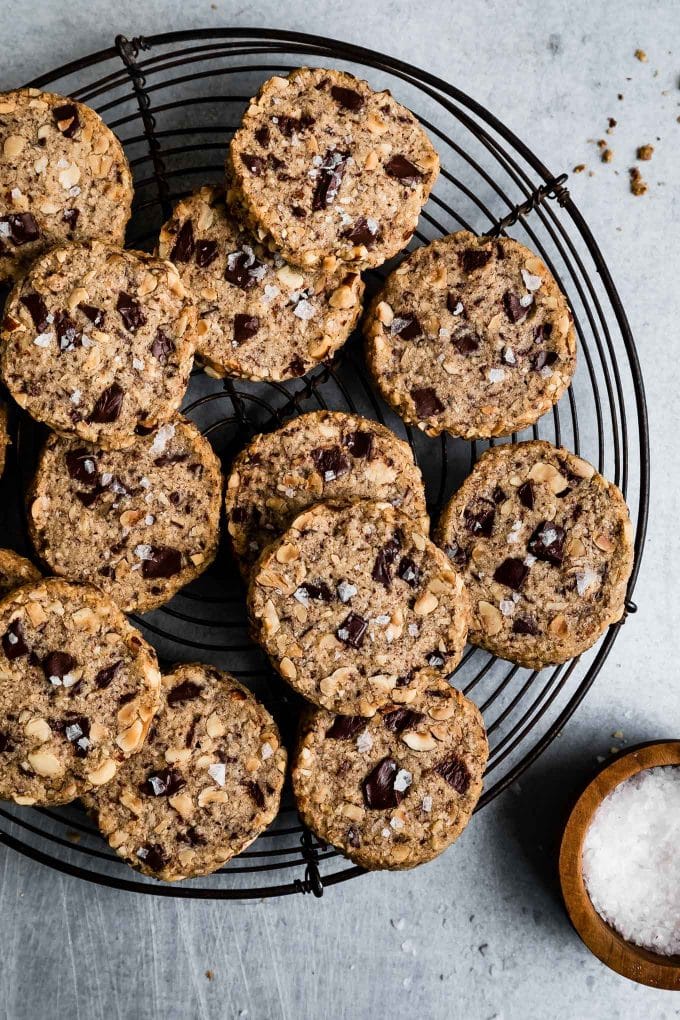 Share on Pinterest
Chocolate Hazelnut Gluten-Free Slice & Bake Cookies
20 minutes
13 ingredients
Hazelnuts
Easy
Ingredients
1-1/2

cup (156g)

hazelnut flour

1/2

cup + 2 tbsp (75g)

gluten-free oat flour

1/3

cup (40g)

tapioca flour

1/2

tsp

kosher salt

3/4

cup

unsalted butter, softened to room temperature

1/2

cup (100g)

lightly packed light brown sugar

1

large

egg, at room temperature

1-1/2

tsp

vanilla extract

4

ounces

bittersweet chocolate, coarsely chopped (we used 74% dark chocolate)

3/4

cup (75g)

finely chopped hazelnuts, toasted (chopped somewhere between powder and coarsely chopped, about the size of oatmeal)
Optional:

1/2

cup

finely chopped hazelnuts, toasted, for rolling

3

tbsp

coarse sugar, such as demerara, for rolling

Flaky salt, for sprinkling
The Steps
1. If your hazelnuts are not toasted, pop them on a baking sheet in the oven at 350°F for 8-10 minutes until they smell fragrant and begin to look golden brown.
2. In a medium bowl, whisk together the almond, oat, tapioca flours, and salt. Set aside.
3. In the bowl of a stand mixer fitted with the paddle attachment or a large mixing bowl with a hand mixer, beat the butter and brown sugar together on medium-high speed until smooth and creamy, scraping down the sides as needed, about 2 minutes.
4. Beat in the egg and vanilla on high speed until completely combined.
5. With the mixer on low, slowly add the dry ingredients and mix until completely combined.
6. Add the chocolate and 3/4 cup finely chopped hazelnuts and mix until combined.
7. Divide into two equal pieces onto a surface dusted with oat flour. With oat-floured hands shape each dough into an 8-inch log about 2-inches in diameter. It's okay if it's not a completely smooth cylinder at this point. Wrap the dough in plastic and chill for 30 minutes. Repeat.
8. When the dough as firmed up a little, remove it from the fridge and roll to smooth out the edges. If desired, roll the dough in coarse sugar and remaining 1/2 cup finely chopped hazelnuts. Wrap the dough plastic again and chill for 4 hours or up to 5 days.
9. Preheat oven to 350°F. Line a baking sheet with parchment paper.
10. Working with one log at a time, slice the log into 14 equally thick cookies and place them on the baking sheet, about 2-inches apart.
11. Bake for 12-14 minutes or until turning golden brown around the edges. For cookies that are soft in the center, pull them out at 11-12 minutes, for cookies that are crisp all the way through, pull them out at 14-15 minutes. Remove from oven and let cookies cool on the baking sheet for 5 minutes. While the cookie cool, sprinkle with flaky salt if you desire.
12. Use a thin metal spatula to carefully transfer to a wire rack to cool completely, at least 15 minutes.
Other Recipes You Might Like