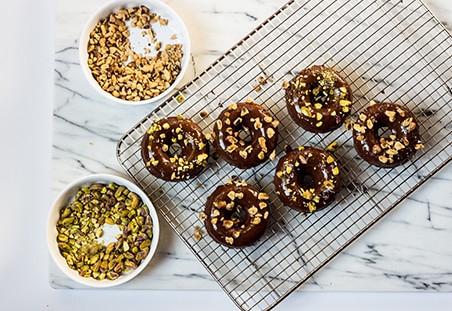 Share on Pinterest
Baked Chocolate Doughnuts with Nuts!
30 minutes
17 ingredients
Walnuts, Pistachios
Moderate
Ingredients
DOUGHNUTS

1 2/3

cups

all-purpose flour

¾

cup

unsweetened cocoa powder

2

teaspoons

baking powder

1

teaspoon

baking soda

1

teaspoon

salt

2

cups

sugar

¾

cup

unsalted softened butter

2

teaspoons

vanilla extract

2

eggs

2

cups

buttermilk
FROSTING

1 ¼

cup powdered sugar

3

tablespoons

unsweetened cocoa powder

3-4

tablespoons

whole milk

2

teaspoons

vanilla extract

pinch of salt

TOPPINGS

½

cup

Diamond of California® Chopped Walnuts, toasted

½

cup

toasted chopped pistachios
The Steps
Preheat oven to 325 degrees and place a rack in the upper third of the oven. Generously spray doughnut baking pan with cooking spray and set aside.
In a medium bowl, sift together flour, cocoa powder, baking powder, baking soda and salt.
Using an electric mixer or kitchen aid, beat the sugar, butter and vanilla together until light and fluffy, about 2 minutes. Beat in the eggs, one at a time. Pour in the dry ingredients and buttermilk into the batter and fold together until just combined.
Fill the doughnut pans 2/3 full. Bake for 11-13 minutes, until a skewer inserted into the doughnut comes out clean. Remove from the oven and allow to rest in the pan for 5 minutes before inverting the doughnuts onto a wire rack. Repeat the baking process with the remaining batter.
To make the frosting, whisk together powdered sugar, cocoa powder and salt in a medium bowl. Begin adding 2 tablespoons of milk and the vanilla extract. Whisk together. Add 1 more tablespoon of milk and whisk together. If the consistency is too thick, add another tablespoon of milk.
Place frosting in a small but wide bowl. Dip the bottom of each doughnut into the chocolate frosting. Place the frosted doughnuts onto a wire rack and sprinkle with chopped nuts.
Other Recipes You Might Like