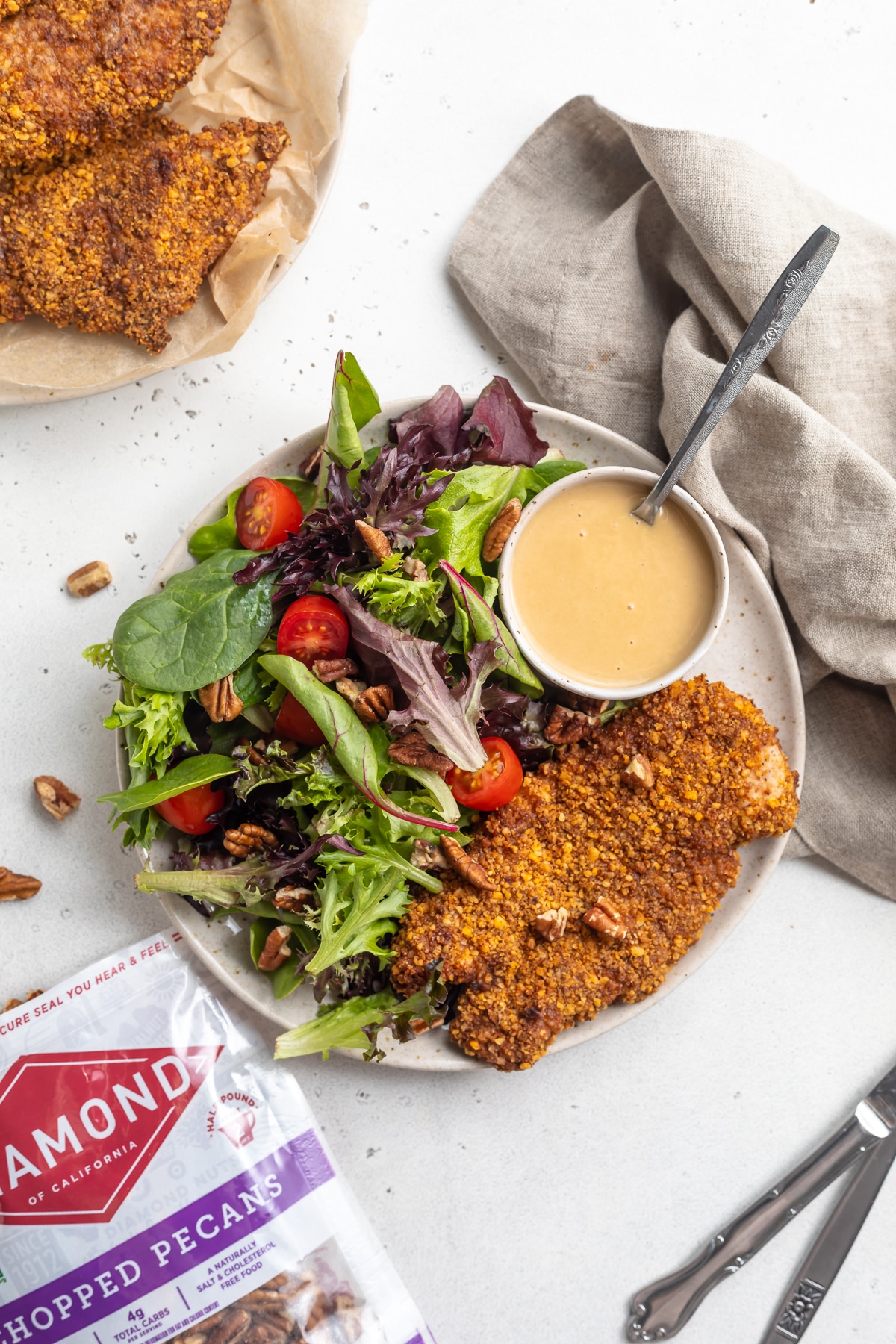 Share on Pinterest
Air Fryer Pecan Crusted Chicken
15 minutes
13 ingredients
pecans
Easy
Ingredients
For the Pecan-Crusted Chicken

2

Large

boneless, skinless chicken breasts (approx 1-1 1/2lbs; cut in half lengthwise to create 4 chicken cutlets

salt to taste

freshly ground pepper to taste

1

cup

Diamond of California chopped pecans

1/2

cup

panko breadcrumbs

1 1/2

teaspoons

paprika

1

teaspoon

garlic powder

1

large

egg

For the Honey Mustard Sauce

1/2

cup

mayonnaise

3

tablespoons

Dijon mustard

2

tablespoons

honey
The Steps
 Preheat air fryer to 360° Fahrenheit. Pat chicken cutlets completely dry with paper towels. Liberally season all sides of each cutlet with salt and pepper to taste. Set aside.

  Add pecans to food processor. Pulse until finely chopped, but don't overdo it. Transfer finely chopped       pecans to one shallow bowl.

 Add breadcrumbs, paprika, and garlic powder to bowl with pecans. Stir well to combine. Set aside.

Crack egg into second shallow bowl and whisk until yolk and whites are fully combined.

 Dip one cutlet in whisked egg, coating both sides of cutlet well. Let excess egg drip back into bowl, then     place cutlet in pecan mixture. Flip cutlet in pecan breading until both sides of cutlet are well-coated,         then  transfer cutlet to plate and set aside. Repeat until all chicken cutlets have been coated in egg and       pecan mixture.

 Lightly spray air fryer basket with cooking spray.  Place chicken cutlets in air fryer basket in one even layer, being careful not to stack or overlap cutlets. Work in batches as needed. Spray tops of chicken cutlets lightly with spray oil then return basket to preheated air fryer.

  Cook 6 minutes, then remove basket and flip cutlets over. Return basket to air fryer and cook another 6    minutes.

  While cutlets cook, stir together all ingredients for honey mustard sauce in small bowl. Once chicken is    fully cooked, serve immediately with honey mustard sauce and desired sauce.
Other Recipes You Might Like